Dishwasher Gadgets
Dish Washing Brush (Pack of 2)
₨1145
Main Features:
Buy 1 get 1 free Sale for limited time
Easy to use
High quality

Easy to carry

Safe and hygienic

Plastic design
It is easy and convenient to use
Perfect choice for your family life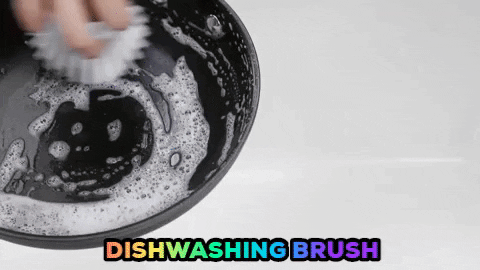 Availability:
21 in stock
₨1145
21 in stock
Dish Washing Brush (Pack of 2)

Method to Use:
Put dish washing liquid into the cleaner, and press the upper button.
Now the liquid will drop on your dish, until you you keep it in press position.
Start moving the cleaner in circular motion.
Soap on Demand
Dispense soap on demand with our Dish Washing Brush.
With only a light push of the button, soap shoots out and onto the item being scrubbed.
Comfortable Handle
The contoured shape of the handle provides optimal comfort and scrubbing power.
The handle also features a soft, non-slip grip so you hand stays put, even when wet.
Refill and Go
Replacement bristles are also available.
To refill the Brush simply unscrew the top and add more washing up liquid.
Replacement Bristles
The durable nylon bristles easily clean baked-on food and are safe for non-stick cookware.
Simply twist the Brush base to easily replace them.
Shipping
Delivery will be managed by wochaye.pk
We are the first and ONLY eCommerce platform to ensure shipping within 24 hours (in major cities). Other than major cities, shipping will take 48 Hours.
Package
Your parcel will contain:
2x Cleaner
Payment Method
Currently we support "Cash on Delivery" method for this product.
Colors
Below mentioned colors are available in this product:
Green
Pink (sold out)
Blue (sold out)
Return
In case, the product is damage or not up to your standards, you can return us the product and get your complete payment.
Warranty
All of our products are so up to the mark that we offer 7 days check warranty on all of the products. Which means if you didn't like the product regardless what the reason is, you can still return us the product.
Refund
Damaged Product Guarantee: We are so confident to our shipping protocols that we will give you full refund with no question asked, in case you receive a damaged product.